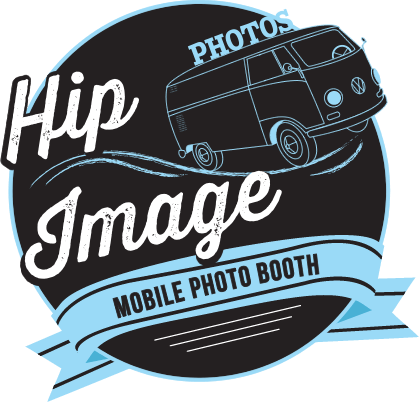 BOOK US!
Photo Booths as Unique as Your Event
Step inside one of Hip Image's most unique photo booths. Choose from the lovingly restored VW bus, Boler or Open Air booth. In each, you'll find the latest high-tech, social digital photo booth gear. Each unique booth delivers memories and keepsake photos of good times with friends and family.
We've combined our love for the vintage, fresh ideas for events and a passion for photography to bring you Hip Image—Calgary's most memorable
photo booth experience
.
Our photo booth units may look vintage, but they are all totally modern. Prints snapped on a DSLR are developed within seconds for your enjoyment. Share the good times with your friends via social media on-the-spot with our social media kiosk.
Social Media Enabled Photo Stations

If a picture is worth a thousand words, consider how much more it's worth with your logo printed on, shared and hashtagged.  

Getting noticed in the social media space requires superb creativity. That's where we come in. With creative, personalized events made visual, you're bound to get people talking on the social grapevine with our images.

All of our booths are social media enabled, allowing users to upload photos to their social media accounts, text message or email direct from our units—live at your event. PLUS they walk away with a branded photo that is likely to stay on their fridge or in their office for years to come.
We've got options!
Check out all of the exciting options you.
Corporate Customization & Social Reach Extension

We offer you all the same great things you've come to love about the Hip Image experience including the social sharing station, branded photos or GIFs, beautiful prints and custom themes and props.

You can view and download the list of e-mails and names of guests who shared onsite and offsite, send follow up emails, view data on our reports.

With follow up emails, you can automatically send an email to anyone who used our sharing station during or after the event. You can send a follow up to connect with your guests and grow your own business to:

Get more booking inquires
Get more positive Google reviews
Send event guests back to your website

Check out our new Hashtag Printer to crank up the volume for your event hashtag via Instagram.

SEE MORE »
Pro
Use the power of photos to connect with your customers and drive your brand performance. We create fully branded photo activations that are distinctive and engaging for your target audience.

Not just another photo booth – we'll take you to the next level with our superbly creative activations with advanced branding opportunities including backdrops, prints, audio options and touchscreen customizations.

Our platform of creative tools and professional services allows us to create highly shareable content for brands, agencies and event planner.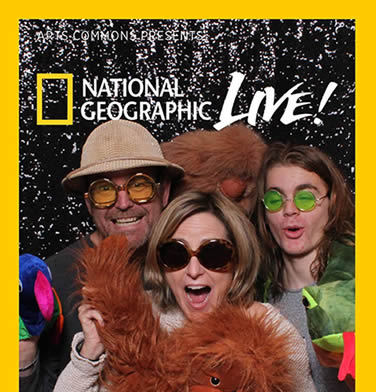 GIF/Boomerang
Here's where the fun really gets going. Through short video bursts, we'll play them forwards, and then backwards, then forwards, you get the picture. This highly shareable content is hard to stop watching!
Green Screen
Have even more fun in our Open Air booth with a Green Screen background. Our Green Screen technology can transport your guests anywhere. Want to send your guests back in time, to the moon, Lake Louise or to Studio 54? With our open air photo booth for indoor use, we can customize the finished photo with any background you like when you choose this option.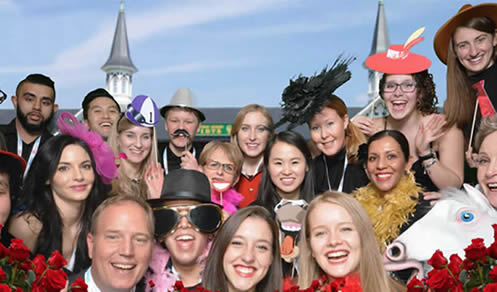 Light Painting
Want to dial up the interactivity for your guests? Try our light painting booth. Guests "paint with light" and walk out with a premium branded original memento that leaves a lasting impression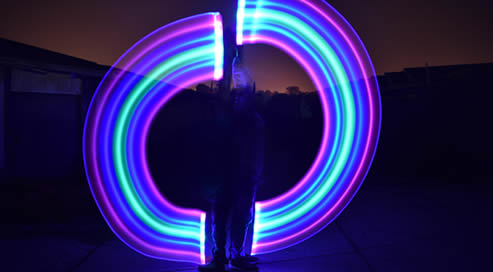 Hashtag Printing
Our new professional photo grade Hashtag Printer that works hand-in-hand with Instagram to provide your guests with a custom branded take-home photo AND drive social traffic to build your brand. It's been circulating at events for a couple weeks now, and guests are finding it to be a lot of fun.
LEARN MORE HERE »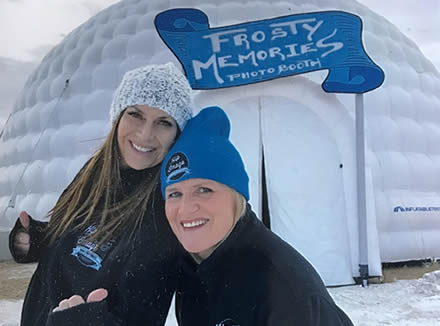 Custom
Have something else in mind? Let us know! We love working with our clients to stretch the real of possibilities when it comes to event photo activations.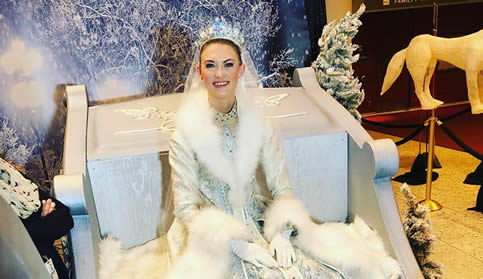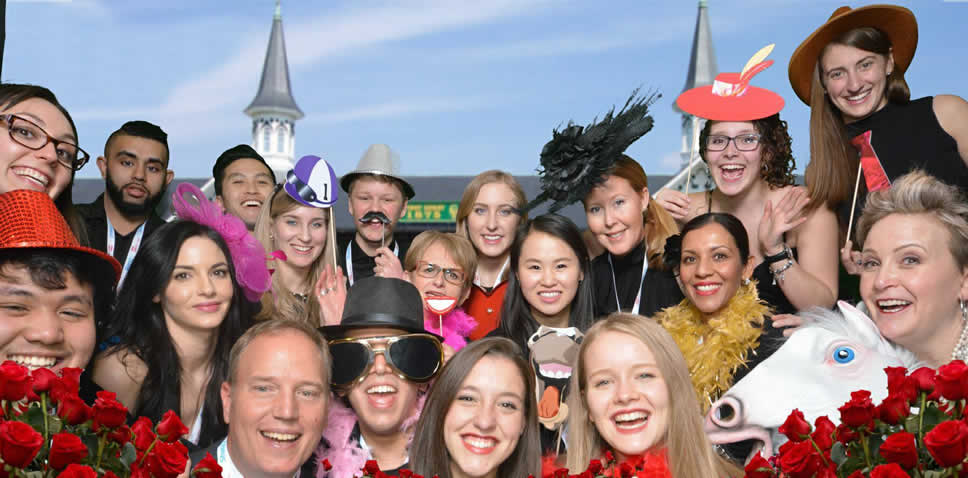 Social Media Sharing

All of our photo booths come with our rockin' social media station to help increase your brand exposure by creating fun visual content that people want to share on their own social networks. We know that it takes outstanding creativity to get noticed in the social media space. That's where we come in. With creative, personalized events made visual, you're bound to get people talking on the social grapevine with our images.

Perfect for any event or party, the green screen photo booth makes images so much more fun to share on social media. This is a perfect way to brand and share visual content for corporate events, trade shows, exhibitions, product launches and company parties as each images is branded with your logo and hashtag. All of our booths are social media enabled, allowing users to email or upload photos to their Facebook or Twitter accounts, text message or email direct from our bus—live at your event.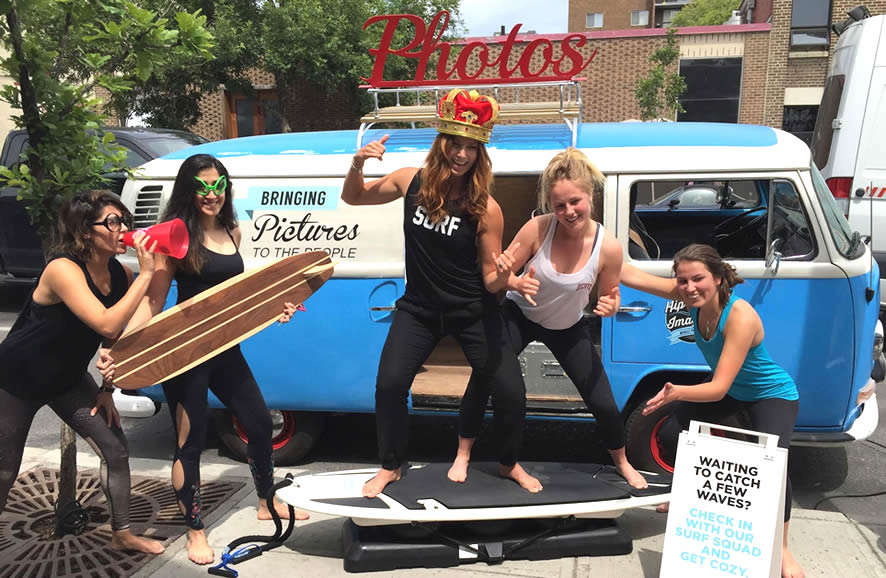 Disclaimer & Opt-In

Prompt your guests to sign legal waivers and be CASL compliant before receiving their digital image for sharing.



High Volume Events: Printer Spooling

Expecting a lot of guests at your event? Cut the wait time down for their print outs with printer spooling that allows photos to be printed at multiple print stations.