"The Hip Image photo bus was a huge hit at our event. With both print and digital images instantly available, guests had a blast capturing pictures with friends, and could instantly share the good times on social media."

- Chris Doyle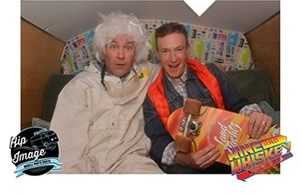 Calgary photo booth company...
...where vintage meets modern & where it's all about the experience!
Hip Image has quickly become
Calgary's premier photo booth service
offering the most unique photo services in the city and province. We offer a creative approach and multitude of technologies that will both engage your guests and build on your brand.
We create and execute engaging event and brand experiences that guests are magnetically drawn to, we can help build brand loyalty, create digital and physical visual memories worth sharing all while producing dynamic and interactive event entertainment.
Each of our services offers a completely customizable experience to fit your event theme or branding.
Canada's original VW Photo Booth bus, Boler and new to the scene–gorgeous open air indoor unit–may be vintage but our photo booths are totally modern. Our custom photo booths are built directly into the VW, Boler and of course, our open air unit. Prints snapped on a DSLR are developed within seconds for your enjoyment. Share the good times with your friends via social media on the spot with custom-branded images.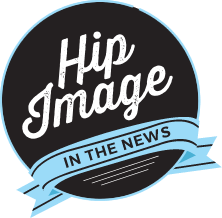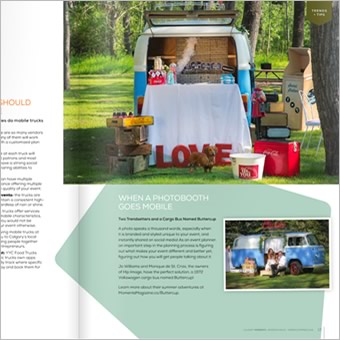 When a photobooth goes mobile
A photo speaks a thousand words, especially when it is branded and styled unique to your event, and instantly shared on social media! As an event planner, an important step in the planning process is figuring out what makes your event different and better yet, figuring out how you will get people talking about it.
Keep Reading »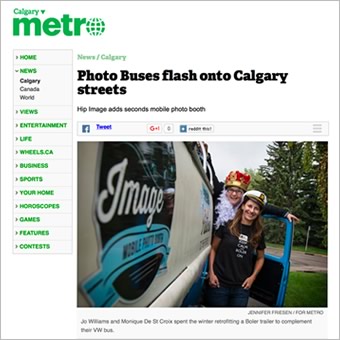 Photo Buses flash onto Calgary streets
A year after converting a vintage VW bus into a mobile photo booth, the co-owners of Hip Image have snapped up a new vehicle for their growing fleet.
Keep Reading »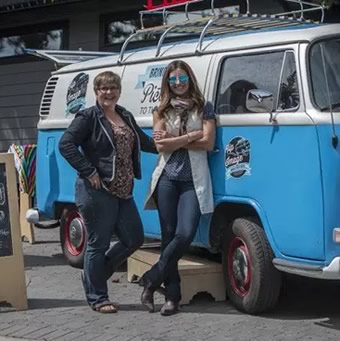 This VW Bus puts the 'photo' in photogenic
Everyone loves a VW bus. Driving one of these bread-loaf-shaped vans is guaranteed to make people reach for their phones and start photographing the bus. But what about a VW bus that takes pictures of you?
Keep Reading »
Frequently Asked Questions
Does an attendant come with your photo booths?
You bet. Our certified Hip Image attendant will be on site for the entire duration of the time booked for your event making sure all goes smoothly.
Do you print the photos on site?
After your take your photo, you'll have your picture in hand within approximately 10 seconds. You'll also be able to email or share your pics via social media, email or texting, have access to your private online gallery so you can share, and download the hi-res images as you wish.
What does "unlimited printing" mean?
Unlimited printing means every guest will receive a single copy of their Hip Image session. But don't despair, we'll send you digital access to your photos so guests can print additional copies.
Do you need Wi-Fi?
We need Wi-Fi to run our most amazing social media kiosk. If Wi-Fi isn't available, you can access and share your photos from your digitally stored files on our network after the event.
How about power?
Yes please. We will need you to provide power. We need that essential utility to power up the photo systems in the bus. If we can't access power, then we can use a gas generator.
Do you travel (far)?
We can, but it might take us a while to get there! If you have an out-of-town event (outside of Calgary), we will do our best to make it. Let's talk about how this can happen.
Can you personalize photos with our logo?
You bet. We always include our funky logo and a link to access your digital photos on the bottom of the photo. We can customize your photos to include your logo and some other aspects of the bus as well. Get in touch with us to brainstorm over some creative signage ideas.
What about weddings?
Hello… yes, we do weddings. We have some great ideas to ensure your guests have a great time at your wedding!
How does the Green Screen photo booth work?
We can place your guests in any situation by shooting on a green background. Then, we automatically replace the background with a custom one using state of the art Green Screen technology. Our photo booth system is powered by the latest in technology that makes up for poor lighting and wrinkled backgrounds for perfect results.
How many people can fit inside the bus or Boler?
Good question. Big people or little people? Four is a good number to start with, but we have squeezed a couple more in on occasion.
Can you bring the bus or Boler indoors?
Yes we can. We'll need to talk specifics, and will need permission from your venue as well, but if you want to catch people's attention, there's nothing better than Buttercup! Again, we can have some fun with signage, so give us a shout and we'll do some fun brainstorming.
Are you insured?
Absolutely. For up to $2 million.
What if there are mechanical or weather challenges?
If Buttercup is unable to make it to your event because of mechanical or weather issues you will be given a full refund.

Keep in mind that we can still operate with light rain. If it is impossible to operate the booth due to severe weather determined by Hip Image staff, and the bus has not arrived yet, customers will be given a full refund. If weather strikes during an event, the customer will be partially refunded if a large timeframe of the event was not used, determined by Hip Image and the customer together.
What if the bus, equipment or props are vandalized?
Who would want to damage Buttercup? If it does occur, the customer booking the event will be responsible for any vandalism guests perform toward the bus/equipment/props during the event. Thanks for understanding. We have put a lot of TLC, time, effort and funds into this and do our utmost to keep it in top shape for all of our guests' enjoyment.
What are the specs of the VW bus?
Our 1970s era VW bus is approximately 67" wide, 83" tall, 178" long and 2,800 lbs (unless she's had a big plate of pasta, then add a few more pounds and inches).
What are the specs of the Boler?
Bert the Boler comes in at 75" wide, 77" tall, 174" wide and his fighting weight is 1,400 lbs.
Do you rent the bus for a photo or video shoots?
For sure. Give us a shout and we can strike a deal.